Sodium diisobutyl dithiophosphate
Chemical name: Sodium diisobutyl dithiophosphate
Synonym: Isobutyl sodium phosphorodithioate; sodium O,O-bis(2-methylpropyl) phosphorodithioate; AERO 3477,
CAS NO.: 53378-51-1; 33619-92-0
Molecular Structure: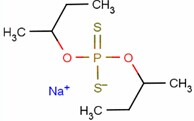 Molecular Formula: (C4H9O)2P(S)SNa
Specification:
Appearance: Faint yellow to jasper liquid
pH: 10-13
Mineral substances %: 49-53
Application: Dithiophoshate SIB (SB) is an effective collector for gold ore and silver, copper, zinc sulfide ores. It displays weak collective power to pyrite in alkaline circuit. This reagent has little frothing property.
Packing& Storage:
Plastic drum,net weight 200kg / drum&1000kg/IBC.
To be protected from water, torrid sunlight and fire, no lain down, no upside down .Wear ocular and anti-toxin respirator to protect your skin, eye and nonnasality. In case of contact, wash immediately with plenty of water for at least 15 minutes.